I am so excited.... I won a spot on the " Bead Soup Blog Party" Also my partner is in Canada...so that makes it so much easier to mail my "

Bead Soup Mix

"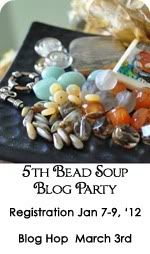 I've got some focals in mind.... just can't decide what colour palette to go with..
Think I will make a nice sterling silver clasp to go with the beads....